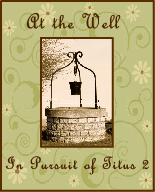 As so many other women, I am so blessed to be a part of the group of writers over
At the Well
. I have made so many friends by being a part of this group, but more than that, sisters in Christ.
Together we have prayed for, cried and rejoiced with each other over so many things that have led us down the paths of our lives.
At the Well
is a year old and a wonderful year it has been, but what is even more wonderful is the way that God has grown this ministry!!!
I truly encourage you to hop over there and read
today's post
and try and take in all of the wonderful changes that God is making in this ministry and in the lives of the women who write and the ones who read.