Today I joined up with
At the Well
and wanted to share it with you.
The questions for today were on the subject of family love. The Scripture was Titus 2:4, "These older women must train the younger women to
love
their husbands and their children." NLT
Amy researched this and found that the type of love mentioned here means to love in the sense of 'being friends with..'
Then she posed these questions:
What is your definition of friendship?
My definition of friendship is someone who will be there for me through the good and bad, encouraging me when I'm down or when I'm doubting myself. Someone who knows me well enough to pick up that something is going on when I'm trying to keep it to myself. Someone who knows me inside and out, faults and all, and chooses to love me anyway. Someone I can laugh with, cry with, have fun with and do absolutely nothing with....and it's okay.
Did you follow the belief that we should not be friends with our children?
No. My parents were not 'friends' with me. They were parents and while I love them dearly, it's harder now as an adult to just hang out with them. I decided back in my teenage years that I would be a parent first and then a friend.
Has that changed?
Having 2 teenagers in our home now, 16 & 18, I see how incredibly important that is. Our children know that Mom and Dad like to have fun and act crazy. We (I) like my music loud and my car fast..which can tend to get me in trouble. They also know that Mom and Dad are first and foremost...Mom and Dad. While we love them and their friends and we love hanging out with them in their world, we ARE their parents and (with God) we set the rules and the plans and the expectations. Any falling by the wayside will be dealt with swiftly.
In what ways can we befriend our husbands and children?
If I follow my definition of friendship, then I'll love unconditionally, encourage, listen, pray for, cry with, laugh with, spend time with and do nothing at all with the 3 people who mean the most in my life. However, the only possible way I can be friends with my DH and children, is to have a real relationship with my Heavenly Father. Through him, I can know what true love and true friendship is. "You are My friends if you obey Me." John 15:14, NLT
What can we do to teach those skills to someone else?
I'm a firm believer in teaching by example. In being a friend to those I meet. In loving them and making a positive difference for Christ in their lives. In loving them unconditionally, because that's how Jesus loves me. Not accepting their sin, but loving them..being their friend in spite of it.
You can check out today's post over
At the Well..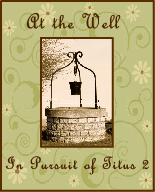 Blessings...