Good morning my bloggy buddies!!
Notice anything different???
I felt like I woke up to Christmas this morning!!!!
I am so excited about this new makeover and can't stop staring at my own blog! (sounding a little self-centered there, aren't I??)
Many thanks to Beth for the makeover give-a-way, and many thanks for Tara for doing such a great job on my blog!
I encourage you to check out both sites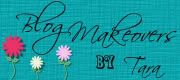 Now.... I'm going to smile at my computer for a little longer!!