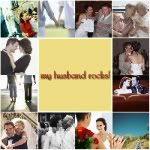 It has been several weeks since I've joined
Katy Lin
over at
The Great Adventure
for My Husband Rocks! Not because DH doesn't rock anymore, but because I have either been so busy I haven't had time to do a post on Friday, or because God has led me in another direction with posting.
I'm trying to get much better about scheduling my posts...but still.......
Anyway, let me share with you today why My Husband Rocks!!....
Most of you know that we have been having major issues with algae in our swimming pool.
Summer is almost half over and we haven't spent hardly any time in the pool. (Talk about some upset teenagers!!!...)
DH and I both are on the same page when it comes to doing things frugally and as efficiently as we can. The last 2 years with the pool, we've had no problems...but this year..green..hazy..green..hazy...green...hazy.....
aaarrrrrgggghhhh!!!!!!--
but I digress......
We can see our pool from our bathroom window, so every time I am in the bathroom I look out the window. I love to look at the clear, blue water, swirling and rippling. AHHHH...it is so relaxing----except this year I look out and see green...hazy...green...hazy...green....
sorry...
This week, my sweet hubby decided his bride was going to have crystal clear water no matter what the cost....
and it has cost!!
He has spent quite a large amount, but this morning as I look out the window, I see clear water....and it's
beautiful!!!!!!
Is it beautiful because it's clear? Of course! But what makes it even more beautiful is the fact that the water is clear because my DH sacrificed and did what he had to do to make me smile.
Folks, my husband ROCKS!!!!!!