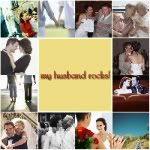 Over the years, one thing DH has figured out is the fact that I LOVE flowers!
They are so beautiful and smell so good!!! I just don't think you can have too many.
One of his favorite things to do is pick me wildflowers. His favorite season is spring, simply because he's had such a hard time picking wildflowers throughout the winter months! We have tiny purple flowers that are mainly a ground cover, but it doesn't matter. It's a flower and it will usually find it's way into my house.
Just last night, he came inside with his hand behind his back. I knew it was one of two things: It was either a bug to scare the daylights out of me!!...or it was a flower.
It was a flower.
Not only was it a flower, but it was one of my dark purple Iris's. This thing was beautiful and so purple it was almost black. I'd been watching it for the last couple of weeks, knowing that it was going to bloom at any moment. And when it did.......
In my early marriage days, it used to drive me nuts for DH to pick my flowers out of my flower gardens.
He would bring in a flower to surprise me and it would upset me because he'd gotten it out of my garden. Then God just spoke to my heart and told me to grow up. I have a wonderful hubby who just wants to make me smile and bless my day. The flowers would wither outside just as well as they would in the house. Enjoy the moment and my husband.
I decided God was right.
Many years ago, when finances were much tighter than they are now, I remember a tradition DH started at Valentines Day that has stood the test of time.
Many of the ladies that I worked with got flowers, usually roses, from their hubby's, delivered to them at work. We couldn't afford those high prices for a dozen roses and I knew this. I was happy for these ladies, but inside I struggled just a bit. Oh, I knew my DH adored me and would buy me millions of roses if he could afford it. We just couldn't afford it.
Then one Valentine's, DH got a brilliant idea!
Instead of buying me a few roses that would die, he decided to buy me a rose bush. THAT..we could afford.
Rose bushes were around $5 and they would give me roses for years to come, not just for a few days. With that first rose bush has come a Valentines Day tradition!
I so look forward to getting a new rose bush each year and DH takes great pains to find a different type of bush that what he's bought before.
This man is so wise and clever and so loving and considerate. My hubby truly Rocks!!!
For more
My Husband Rocks
, join
Katy Lin
and
The Great Adventure
.