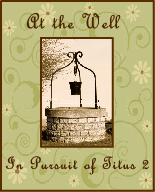 Happy Tuesday bloggy friends!!
Thanks so much for your prayers and encouragement! I am feeling so much better this morning (just a wee bit of a headache is all that's left).
Today I'm posting over at
The Well
. I'm talking about......the temptation of laziness!!!
I know you're shocked!! I was too when I realized that I can indeed be lazy!!!
Please, join me over at
The Well
today to see if laziness is plaguing you as well..